Co-Founder, NCTA, and Pennsylvania Cable TV, 2003 Cable Hall of Fame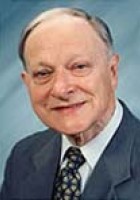 I'd say that in about the spring of 1951, Milt Shapp started to gear up the company to supply equipment for community antenna systems…Up until then he had manufactured the apartment house equipment which I had modified for use in the Panther Valley system.
Robert J. Tarlton built the first widely publicized commercial cable television system in the United States.
In 1950, he organized a group of fellow television set retailers in Lansford, PN to offer television signals from Philadelphia broadcast stations to homes in Lansford for a fee. The system was featured in stories in the New York Times, Newsweek and The Wall Street Journal. The publicity of this successful early system set off a wave of cable system construction throughout the United States.
Tarlton used equipment manufactured by a new company, Jerrold Electronics. After seeing the success of the Tarlton system in 1950, Jerrold President Milton Shapp reorganized his company to build equipment for the now-growing cable industry. In 1952, Tarlton went to work for Jerrold, helping to construct most of the major systems built by that company in the 1950s, including the landmark system in Williamsport, Pennsylvania. Tarlton was also responsible for training many of the major operators of cable systems in the 1950s.
He was co founder of the National Community Antenna Council, later renamed the National Cable Television Association (NCTA), and of the Pennsylvania Cable Television Association.