Chairman and CEO, Atlanta Braves, 2010 Cable Hall of Fame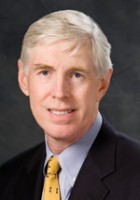 Terence F. McGuirk spent 35 years with Turner Broadcasting, beginning in 1972 when he joined TBS, Inc. as an account executive with WTCG. In 1973, he assumed the same role with WRET in Charlotte, N.C. McGuirk returned to Atlanta in 1975 as director of cable relations, where he was instrumental in the launch of TBS Superstation and played a key role in the launch of every Turner network through 2001.
In 1978, McGuirk was named director of special projects for TBS, Inc. and in 1979 was appointed vice president of TBS, Inc. From 1987 to 1991, he served as president of Turner Network Sales and CNN International Sales. Concurrently, McGuirk was president of Turner Sports where he was instrumental in securing coverage of the Olympics for cable television for the first time.
As executive vice president, McGuirk served as the company's second in command from 1991 to 1996. When TBS, Inc. merged with Time Warner Inc. in 1996, he succeeded R.E. Turner as chairman, president and CEO. He served as chairman and CEO of the company until March 2001, when he was named vice chairman. From that point through December 2003, McGuirk was CEO of the company-owned Atlanta sports teams—the Braves, the Hawks and the Thrashers. In December 2003, McGuirk became Chairman and President of the Atlanta Braves, adding the title of CEO in May 2007 following the sale of the team from Time Warner Inc., to Liberty Media Corporation.
In 2006, he received the Governors Award from the southeastern chapter of the National Academy of Television Arts & Sciences.