Former CEO/COO , TeleWest PLC (UK), 2014 Cable Hall of Fame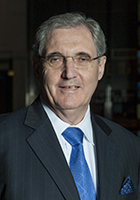 David R. VanValkenburg was introduced to the Cable Telecommunications Industry in 1969, while a financial analyst at Investors Diversified Services (IDS).  During his career in the Cable Telecommunications Industry he has participated in its dramatic programming and technological transformation.  In 1973 with American Television and Communications Corporation, he started as manager of a cable system in which vacuum tubes were the primary source of transmission and carried twelve (12) channels of off-air television stations.  
Over the next twenty-one (21) years, David served as an executive with seven (7) USA MSOs. He concluded his executive career in 1999 as CEO/COO of Telewest PLC (UK) offering the triple play of residential video, internet, and telephony, and commercial data and telephony services.  He led Telewest from near bankruptcy to being listed among UK's FTSE 100 companies.  Since retiring from senior executive roles, he has shared his management expertise with corporate executives through serving on 16 companies' Boards of Directors.
David is the eldest of seven sons raised on a family dairy farm. He attended a one room, primary school for nine (9) years, obtained an M.A. in Radiation Biophysics (Kansas) and an MBA (Harvard).
David has served on the Boards of Directors of the NCTA, The Cable Center, CTAM, Cable in the Classroom, Cable Advertising Bureau, and Kaitz Foundation, the Boards of Trustees of two (2) private colleges, and has been a Presbyterian Elder for over 35 years.
Doris and David, who will celebrate their 50th Wedding anniversary in June 2014, have two children and five grandchildren.