Former President, TelePrompTer, 2008 Cable Hall of Fame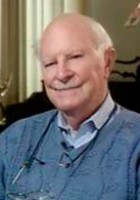 Born in August 1919, "Hub" Schlafly graduated from the University of Notre Dame, BSEE '41, and then later enrolled in graduate studies at Syracuse University. He joined General Electric and was soon assigned to MIT Radiation Laboratory as a Gunfire Control Radar project engineer. In 1947 he became Director of Television Research for 20th Century Fox. Projects included Large Screen Television projection, TV Broadcasting and experiments in cross-polarization microwave transmission. He was enrolled as a Fellow in the Society of Motion Picture and Television Engineers in 1951 and is a senior member of IEEE and SCTE.
A co-founder, director, and vice president of TelePrompTer Corporation, he served as Executive Vice President, Technical Operation and later as President. In addition to prompting services for broadcasters and public speakers, TelePrompTer pioneered such things as multimedia information displays, theater television, broadcast studio equipment and systems, military command and control room design, installation and operation and, finally, cable television system operation. The company led the way into new cable technologies such as the conception and testing of multi-channel, multi-directional microwave, which Hughes Aircraft Company perfected and is marketing as AML Microwave. Faced with the problem of off-air co-channel interference in urban cable systems, he worked with Paramount, Jerrold and Hamlim engineers in the development of the set-top converter and subsequent broadband expansion of cable for carriage of non-broadcast channels. He directed the first installation and testing of two-way transmission on an operating cable system in Los Gatos, California.
His association with Hughes included election as a Director of ThetaCom and the subsequent development of the Subscriber Response System (SRS), installed and tested in El Segundo, California in 1972. IN the late 1960s, Schlafly become convinced, along with others, that the geostationary satellite relay would implement national television programming distribution. After the Canadian launch of ANIK I in November 1972, he contracted Scientific-Atlanta to build an eight-meter transportable satellite receiver, which was first demonstrated at the NCTA Cable Convention in Anaheim, California, June 18, 1973. The program, originating in Washington, DC, was called SPACECAST I.
In 1992, The National Academy of Television Arts and Sciences presented him with an Emmy for Outstanding Achievement in broadband engineering development. In 1999 a second Emmy was awarded for development of the Lens Line Prompting System. He holds more than 16 patents and is an author and lecturer.