Co-Founder, Pennsylvania Cable Network, 2002 Cable Hall of Fame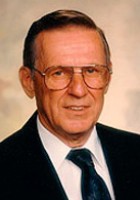 One trick I got from John Walson. We used to wind our coils with some pretty crude stuff. He took a washing machine, the old wringer/dryers, and he put the wire in there and turned on the washing machine wringer. That's how we used to wrap the coils.
An early cable system builder, Joseph Gans became an active participant in the cable industry in Pennsylvania and was one of the founders of the Pennsylvania Education Communications System. He attended the now legendary meeting at the Necho-Allen Hotel, in Pottsville, Penn., where the National Community Television Council, the forerunner of the NCTA, was created. He is one of the few cable operators who has remained active in the cable industry since then.
In 1974, he was also the co-founder of the Pennsylvania Cable Network that serves 2.5 million subscribers. Gans is a member of the Cable Television Pioneers, Institute of Electrical Engineers (IEEE), National Research and Development Committee and the National Copyrights Committee. He is past president of both the Pennsylvania Cable Television Association and the Society of Cable Television Engineers. He is a member and past director of NCTA and serves on the board of The Cable Center. Gans has been much honored by the cable industry as well as by many of the charitable causes he supports. A few of his many honors include NCTA's President Award in 1985, Pennsylvania Cable Television Association's Community Services Award in 1986 and the American Cancer Society's Excalibur Award in 1992. Last year, he shared the Pennsylvania Cable and Telecommunications Association's Cable Operator of the Year award with his wife, Irene.