Senior Vice President, NCTA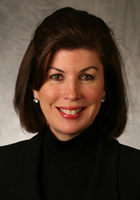 Eleanor Winter has been a part of the cable television industry for twenty five years. She presently serves as Senior Vice President at the National Cable and Telecommunications Association. Prior to joining NCTA, Eleanor worked for two United States Senators, Senator John Stennis from Mississippi and Senator Paul Simon, from Illinois. She then moved into the public relations world at the firm, Cribben, Miller and Moses.
At NCTA, she is responsible for the cable television industry's political action committee, CablePAC. When Eleanor was first hired, CablePAC membership totaled 163 people, representing 30 cable companies with annual receipts of $185,000.
Today, thanks to the leadership of the NCTA Board, the work of the CablePAC Committee and the generous support of the industry, the membership is made up of more than 2800 cable executives, representing over 100 companies and annual receipts total well over $2 million.
In 1999, for the first time, CablePAC earned the ranking of the number one telecommunications association PAC and has stayed in that position ever since. More than $30 million has been raised and distributed to Federal campaigns since she was hired.
Eleanor was born and raised in Mississippi and graduated with a Bachelor of Arts degree from Ole Miss.
She currently serves on the Board of the National Coalition for Cancer Survivorship and the Winter Institute for Racial Reconciliation. She also serves as a mentor for young men and women in the cable industry through the WICT mentorship program.