Chairman/CEO, The Denver Center for the Performing Arts, 2014 Cable Hall of Fame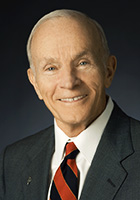 In January 2007, Daniel L. Ritchie became Chairman and CEO of the Denver Center for the Performing Arts. He was Chairman of the Board of the University of Denver from 2005 to 2007 where he served as the 16th Chancellor for 16 years from 1989 to 2005. Ritchie's involvement with the University of Denver began in 1983 when he became a trustee. He served as vice chairman of the board and chaired the development committee before becoming Chancellor. In his 24 years of involvement with DU, the school steadily gained stature and strengthened academic programs.
Ritchie was CEO of Westinghouse Broadcasting for eight years before moving to Colorado in 1987. The move to Colorado capped a career of nearly 30 years spent in executive positions with MCA, Inc. and Westinghouse.
Ritchie currently serves as President of the Temple Hoyne Buell Foundation, which focuses on early childhood education and development, and has served as Chairman of the Board of the Daniels Fund, which supports programs that encourage personal responsibility and achievement by funding college scholarships and community programs.
Some of Ritchie's awards include: The Citizen of the West Award given by the National Western Stock Show to an individual who exemplifies the spirit and determination of the Western pioneer; the National Samaritan Institute Award; the Gold Medal Award of the Poor Richard Club; Outstanding Philanthropist at National Philanthropy Day; the National Human Relations Award from the American Jewish Committee; a Laureate member of the Colorado Business Hall of Fame and the Ethical Leadership Award from the University of Denver.
He holds both undergraduate and MBA degrees from Harvard.