Chairman and CEO, UnitedGlobalCom, Inc., 2002 Cable Hall of Fame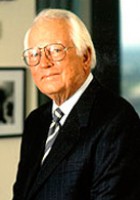 We thought thirty-five channels was an unlimited, boundless number of channels and would never fill them all up. Of course, in a matter of a few years going on into the early 80's and a little later, it turned out that thirty-five really wasn't enough.
Gene Schneider, together with his late brother, Richard, was an original partner with Bill Daniels in the company that built a cable system in Casper, Wyoming, in 1953. It was the first cable system in the country to use microwave to import broadcast signals from a distant city (in this case Denver). Schneider bought out Daniels in 1960 as well as other original investors and continued to expand the company. In 1966, GenCoE was formed with Ben Conroy, Jack Crosby, Glenn Flinn and others. In the late 60's, GenCoE merged with Livingston Oil Company (LVO) and in 1970, the cable company became independent through an IPO and was named LVO Cable; in 1974 it became United Cable Television Corporation (United).
In 1989, United was merged with United Artists to form what became the third largest cable operator in the industry. Also in 1989, United International Holdings, Inc. (now Liberty Global Inc) was formed to take over most of the overseas holdings of United Cable and Schneider became Founder, Chairman and/or CEO until June 2005. Liberty Global owns interests in broadband distribution and content companies operating outside the continental United States, principally in Europe, Asia and the Americas. Through its subsidiaries and affiliates, Liberty Global is the largest broadband cable operator outside the U.S. in terms of subscribers with nearly 15 million revenue generating units. Schneider continues as a board member and founder.
Schneider is a member of the Cable Television Pioneers, was a board member of NCTA for 20 years and is a member of the board of The Cable Center. He has also served on the board of directors for a number of charitable organizations.