President & Chief Operating Officer, Landmark Comm, 2006 Cable Hall of Fame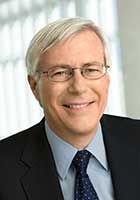 This really is an extraordinary American story about the cable industry and people from all different backgrounds, all different experiences, who risk everything to build this business. If you think about the impact that we've had, in terms of changing the way people learn, the way they communicate, what we've done in the schools, what we've done with C-SPAN, it's truly extraordinary.
Decker Anstrom is president and chief operating officer of Landmark Communications, Inc. in Norfolk, Virginia, a position he has held since 2002. He also serves as chairman of The Weather Channel, which is owned by Landmark. Prior to assuming his current role, Mr. Anstrom was the president and chief executive officer of The Weather Channel in Atlanta, Georgia beginning in August 1999.
Mr. Anstrom previously served as president and chief executive officer of the National Cable Television Association (NCTA) in Washington D.C., where he acted as the industry's chief public representative and lobbyist. He joined NCTA in November 1987 and served as executive vice president before becoming president and CEO in January 1994. During his tenure, Mr. Anstrom strengthened relations with Capitol Hill and Federal Communications Commission (FCC) policy makers and led the cable industry's efforts that helped result in the enactment of the Telecommunications Act of 1996.
Prior to joining NCTA, Mr. Anstrom was president of Public Strategies, a Washington, D.C.-based public policy consulting firm where he directed a broad range of public policy and economic analyses for investment banking and corporate clients.
From 1978 to 1981, Mr. Anstrom was an assistant director of the White House Office of Presidential Personnel, handling presidential appointments to the Cabinet and other senior political posts. Prior to this post, Mr. Anstrom was a senior staff member in the Office of Management and Budget, Executive Office of the President, where he worked on various government reorganization projects, specifically the creation of the U.S. Department of Education.
Mr. Anstrom graduated with a B.A. from Macalester College in St. Paul, MN, where he was a member of Phi Beta Kappa. He also attended for one year the Woodrow Wilson Graduate School of Public and International Affairs at Princeton University.
Mr. Anstrom is a member of the Board of Directors and Executive Committee of the NCTA, and chairs NCTA's Programmers' Committee. He also serves on the board of directors of Comcast Corporation, WHRO (Hampton Roads Public Television and Radio) and the Chrysler Museum of Art. Mr. Anstrom was past chairman, of The Walter Kaitz Foundation Board of Trustees and past vice chairman of the Board of Directors of the Cable TV Advertising Bureau (CAB).