Founder, ATC Corp, 2005 Cable Hall of Fame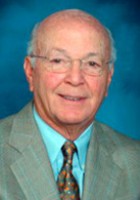 …we had an opportunity to be a leader in it, and that this was something I had kind of done before, I had been trained to do and that I'd love to do again. So I concocted the idea of forming American Television and Communications Corp…
Monroe M. Rifkin is Chairman and CEO of Rifkin & Associates, Inc., an investment and management company he formed in 1982 to facilitate his entrepreneurial activities. Areas of activity include medical technology, real estate development, banking and, of course, cable television, with system ownership both domestically and abroad. The MSO he formed grew to a peak of 550,000 subscribers in 1999, at which time the major portion of the systems were sold to Paul Allen's Charter Communications.
Mr. Rifkin was introduced to the cable television industry in 1959 while he was Executive Vice President of TelePrompTer Corporation. Bill Daniels had just started his cable brokerage operation in Denver and met with Mr. Rifkin in New York. That meeting resulted in TelePrompTer buying its initial three cable TV systems which Mr.Rifkin aggressively added to through a series of acquisitions.
In 1963 Bill Daniels recruited Mr. Rifkin to Denver where he headed up the management and syndication activities of Daniels & Associates. That led to his becoming the founder and CEO of American Television and Communications Corporation, which he brought public in 1969. He served as its CEO from inception to 1982 and as its Chairman from 1974 to 1982.
American Television and Communications Corporation merged into Time Inc. in 1979 and it became the nucleus of what is now known as Time Warner Cable.
Mr. Rifkin served as a Board member of the National Cable Television Association from 1968 to 1984 and as its Chairman from 1983 to 1984. He is also a member of the Cable Television Pioneers.
In the field of real estate, Rifkin & Associates developed or purchased ownership interests in nearly 1,000,000 square feet of office, industrial, residential and retail properties. Further, it has two pending development projects which total an additional 300,000 square feet.
Mr. Rifkin, who holds a Certified Public Accountant certificate from the State of New York, graduated from New York University with a Bachelor of Science in Finance. He has served on several bank and hospital boards and is currently on the Board of the Annenberg Center, a nonprofit devoted to the field of continuing medical education.