Former Chairman and CEO, Western Communications, 2002 Cable Hall of Fame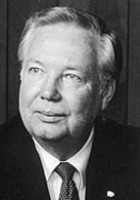 They (customers) thought literally it was a miracle that we could deliver eight channels. I remember we charged $5 a month, mainly because we didn't know what else to charge. As people would come in to pay their bills each month, they would lay that $5 down on the counter and they'd say, 'That's the best $5 I spend every month.'
Elected to the Hall of Fame posthumously, Allen began his career in the cable industry in 1958 as general manager of the cable system in Winona, MN, one of the first cable systems in the state. He became a well-known figure in the cable industry, building two of the nation's first broadband cable systems in Minnesota and Wisconsin. He served for 21 years as chairman and CEO of Western Communications, Inc. and is known in the cable industry for advocating on behalf of the cable customer and delivering excellent service in his cable systems.
Before entering the cable television industry, Allen served in the United States Army Air Corps in World War II and attended St. Mary's College in Winona, Minnesota. Allen joined the staff of radio station KWNO in Winona in 1952 as a radio time salesman, Two years later, he was appointed General Manager of the station and held this position until 1958.
Allen was the founder and served as the first president of the North Central Cable Television Association, and served as chairman of both NCTA and C-SPAN. He received numerous industry awards and honors, including the California Cable Television Association Award in 1982, NCTA's President's Award in 1985 and 1992 and the Cable Television Business Magazine Executive of the Year Award in 1984 and 1990.