President, CEO & Chairman, BendBroadband, 2013 Cable Hall of Fame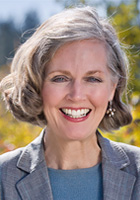 Through investments in technology, organizational development and branding Tykeson and her team continue to advance BendBroadband's position as the local company to root for. Well known in the industry as an early adopter, BendBroadband has a long list technical first's including the 1997 launch of high speed internet, the 2008 conversion to all-digital and the 2011 roll out of LTE 4G wireless broadband over licensed spectrum to rural areas. In 2011 the company opened the first colocation data center in the U.S. to receive the Uptime Institute's Tier III certification for design and construction. The facility is carbon neutral and LEED Gold certified. In 2009 the company rebranded itself to leverage on localism and rising customer trust. The comprehensive effort has successfully resonated with customers in the region and "We're the local dog. We better be good" campaigns have won awards.
Tykeson is the 2007 recipient of the Distinguished Vanguard Award. She Chairs the Rural Systems and Small Operators' Committee as a member of the NCTA Board of Directors and serves on the Board of Directors for CableLabs and CSPAN. Tykeson was inducted into the Cable TV Pioneers in 2008. In addition, she is a Trustee of the Tykeson Family Charitable Trust and a board member of Economic Development for Central Oregon and Associated Oregon Industries. Amy was appointed by the Governor to serve on the Regional Solutions Committee to support job creation. She is a Vistage International member and is involved on numerous local committees and lobbying efforts. Past experience includes the Young Presidents Organization; Vice Chairman of the Catlin Gabel School Board of Trustees; University of Oregon Alumni Association Board; The Nature Conservancy Board of Trustees.
Tykeson got her start in 1980 with Home Box Office, serving ultimately as VP of Area Marketing in New York. She was the 1986 President of Women in Cable & Telecommunications (WICT). She has earned the CTAM Mark Award, the WICT Accolades Award and the Wonder Woman Award. She was named Independent Cable Executive of the Year by Multichannel News in 2007 and CableFax Magazine in 2008. In 2010 Tykeson received the Edwin B. Parker Enduring Achievement Award at the Oregon Connections Telecommunications Conference.