Principal and Managing Partner, JLM Partners (deceased), 2013 Cable Hall of Fame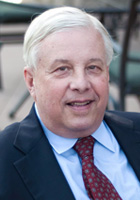 Jim Mooney served as managing partner of JLM Partners, a strategic communications firm in the cable, wireless, CE, and digital media sectors. He served as President and CEO of the National Cable & Telecommunications Association from 1984 to 1993.
When he joined the NCTA, the cable industry regarded itself as a developing national telecommunications medium, which should be not be unduly hampered by local regulation. Despite stiff opposition by broadcasters, telephone companies, unions, and others, Mooney was the industry's principal strategist which led to the successful enactment by Congress of the Cable Deregulation Act in October of 1984. He was the recipient of the first Cable Pioneers Award for Leadership, and he was a member of CableLabs' founding board and represented the U.S. cable industry during the period of its greatest expansion.
Prior to joining NCTA, Mooney served for four years as Chief of Staff to the Majority Whip of the U.S. House of Representatives, where he was responsible for organizing support among Members of the House for positions favored by the House majority leadership. He was a key player in many of the Carter Administration's legislative battles in the House, including the Chrysler bailout and the Panama Canal treaty.
Mooney earned a bachelor's degree from the University of Rhode Island and a law degree (J.D.) from New York University. Jim Mooney passed away on December 21, 2012 and is survived by his wife Louise Mooney and their son, James P. Mooney IV.