Chairman and CEO, Evans Telecommunications Co.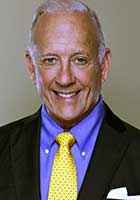 John D. Evans, Chairman and CEO of Evans Telecommunications Company, is also best known as a co-founder and past Chairman of C-SPAN and still serves on CSPAN's Board.
As a U.S. Navy Lieutenant, he served on the staff of the Chief of Naval Operations at the Pentagon and two aircraft carriers.
Evans began his career in 1972 and rose to regional manager of the largest operating region of what is now Time Warner Cable. As COO and investor with Arlington Telecommunications Corp., in 1978 he built the first cable television system in the Washington, D.C. area. After Hauser Communications acquired Arlington, Evans was named President, overseeing operations from 1983 to 1994. He served as president of the Washington Cable Club from 1980-2005.
He has served on the National Cable & Telecommunications Association Board for the past 34 years. He received the NCTA 1981 President's Award and the 1984 Vanguard Award for Young Leadership. He has been inducted into the Virginia Cable Telecommunications Association Hall of Fame and the Virginia Communications Hall of Fame.
As a "Patron of Diplomacy", Evans serves on the US Department of State's Fine Arts Committee and the US State Department's Global Equality Fund. Through the John D. Evans Foundation, he is committed to social justice, AIDS vaccine research, environmental protection, technological innovation, education and the arts to improve mankind.
Evans graduated from the University of Michigan and serves on the President's Advisory Group, School of Information and College of LS&A Dean's Advisory Councils. He lives with his partner Steven Wozencraft and has two children, John Jr. and Courtenay.