Founder and Former President, Hearst Entertainment, 2008 Cable Hall of Fame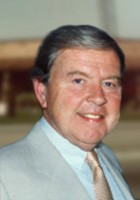 Raymond E. Joslin is founder and former president of Hearst Entertainment & Syndication and former senior vice president and member of the board of directors of Hearst Corporation. He served the Corporation for over 24 years and continues as a consultant.
He is a cable television pioneer, a United States media ambassador, and a corporate entrepreneur, having carved successful careers in both the cable television systems and cable programming industries. For 43 years, he has built a career with a vision for growth, an eye for quality, and a commitment to corporate excellence. He was an initial partner in Continental Cablevision, Inc. shortly after its formation in the mid-1960s. Continental ultimately became the 3rd largest cable systems owner and operator in the industry.
Joslin has been responsible in all areas of senior management, finance, marketing, franchising, system construction, joint-venture development and administration, cable network programming, made-for-television movie production, programming distribution and electronic publishing. During his career, he has been either totally or substantially responsible for the franchising and construction of approximately 50 cable television systems and the formation of about 20 successful companies in the media and entertainment industry.
In 1981 and 1982, he was president of the California Cable Television Association, the industry's largest state and/or regional trade association and, in 1969, the president of the Ohio Cable Television Association. He has held various national and state industry positions including an appointment by the California legislature to the Senate-Assembly Joint Committee on Telecommunications. In 1979 and 1980, he led the California trade association's statewide rate deregulation and minority employment activities and was appointed by Governor Jerry Brown as vice chairman of the Foundation for Community Service Television. As president, Joslin led the California association's successful efforts to deregulate cable television in that state, ultimately setting the standard for national deregulation of the industry in 1985.
Since he arrived at Hearst Corporation in 1980 as group head of its new Cable Communications Group, the unit realized substantial growth. In 1981, Hearst joined Capital Cities/ABC in founding and developing several of the world's leading cable networks including ESPN, ESPN2, ESPNEWS, Classic Sports Network, Lifetime Television, Lifetime Movie Network, Lifetime Real Women, and A&E Networks including A&E, The History Channel, The Biography Channel and The History Channel International, the latter with both Capital Cities/ABC and NBC, Inc. Joslin helped establish the largest regional cable news service, New England Cable News (NECN), which now serves 3.7 million homes in New England. He is founding co-chairman of the boards of directors of A&E Networks and Lifetime Television serving each Company in that position for 24 years (1981-2004) and served as a director on the boards of ESPN (1991-2004) and NECN (1994-2004).
Joslin's appointment in 1989 to create and head the Hearst Entertainment & Syndication group, gave him the opportunity to work with and further develop businesses of the corporation. King Features Syndicate, the world's largest and most respected distributor and licensor of comics such as Popeye, Blondie, The Phantom, Betty Boop, Hagar the Horrible, Prince Valiant and Beetle Bailey, has continued to grow.
Joslin's other former trusteeships and board memberships include: trustee of Trinity College (1990-2007); chairman and a founding trustee for life of the Walter Kaitz Foundation; trustee of Boys Hope of New York; board member of the American Museum of the Moving Image and the International Radio and Television Society; national director of the American Association of Community and Junior Colleges (1983-1988); director of the Japan-United States Television and Radio Institute; director of MetaTV; director of National Magazine Company Limited in London, England.
He is a member of the National Academy of Television Arts and Sciences (NATAS), formerly serving on its National Emmy Awards Committee, a member of the Cable Pioneers Club and is an advisor to board of directors of The Cable Center.
In December of 1990, he was named by Channels magazine as one of 10 men and women who would help shape television in the decade ahead. In September 1995, Cablevison magazine named him a finalist worthy of "honorable mention" in its selection of the 20 people who have had the most impact on the cable television industry since its inception in the late 1940's. Each year from 1998 through 2003, Joslin had been named by CableFAX magazine as one of its Top 100 "Heavy Hitters" in the industry. In 2000, he was given the prestigious Avatar Award by the Broadcast and Cable Financial Management Association, received the Mogul Award from the American Museum of the Moving Image and was inducted into the Silver Circle of the New York chapter of NATAS. Since 1999, Joslin has co-sponsored, with The Cable Center and Trinity College (Hartford, CT), the Annual State of the Communications, Entertainment and Industries Interview: A Dialogue, featuring senior-most industry leaders interviewed by major newscasters.
He received the 1993 Alumni Achievement Award from Trinity College, his college's highest honor given to a graduate for achievement in business. In 1998 he was given the President's Leadership Medal and Alumni Medal for Excellence. In 2003 he was awarded the Eigenbrodt Cup, the highest and most prestigious alumni award the college can bestow for service to Trinity. The Joslin Family Scholarship Fund has granted 50 scholarships to Trinity College students since 1999.
He is a trustee of The St. Elmo's Foundation and a governor of the Delta Phi Fraternity National Board of Directors. He is an advisor to the Breast Cancer Alliance of Greenwich, Connecticut.
A native of Rhode Island, Joslin received a Bachelor of Arts Degree in Economics from Trinity College in 1959, and has attended Carnegie Institute of Technology and Harvard Business School (SCMP).