Anchor, CNBC, 2011 Cable Hall of Fame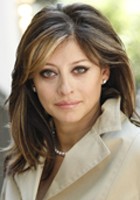 Maria Bartiromo is the anchor of CNBC's "Closing Bell" and host and managing editor of "The Wall Street Journal Report with Maria Bartiromo," recently rated the most watched financial news program in America. It is a nationally syndicated business, financial and economic news program.
Bartiromo joined CNBC in 1993 after five years as a producer and assignment editor with CNN Business News. In 1995, Bartiromo became the first journalist to report live from the floor of the New York Stock Exchange on a daily basis.
In May 2008, Bartiromo received a Gracie Award? in the category of Outstanding Documentary for her documentary "Greenspan: Power, Money & the American Dream." She was also awarded a 2008 News and Documentary Emmy for her "Bailout Talks Collapse" coverage. In December 2009, Bartiromo was featured in the Financial Times as one of the "50 Faces that Shaped the Decade."
Bartiromo's book, "The 10 Laws of Enduring Success," was released by Crown Business, a division of Random House, Inc., in late March 2010. Her latest book, "The Weekend that Changed Wall Street," will be released by Portfolio / Penguin in early September 2010.
Bartiromo is a member of the Board of Trustees of New York University. She is on the Board of Directors of the Girl Scout Council of Greater New York and PENCIL, Public Education Needs Civic Involvement and Leadership, which is a nonprofit group focusing on improving New York high schools. She is also a Young Global Leader of the World Economic Forum, and a member of The Council on Foreign Relations, The Economic Club of New York, and the Board of Governors of the Columbus Citizens Foundation.