Chairman and CEO, CommScope, Inc., 2002 Cable Hall of Fame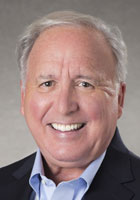 I've got in my home a wooden pole, cut in a three-inch section, hanging in my room with a little plaque of the first legislation the cable industry ever got — the pole attachment bill. That broke the cable industry open.
Frank M. Drendel has served as chairman and chief executive officer of North Carolina-based CommScope, Inc. since 1997, following the company's spin-off from General Instrument Corporation. Drendel served as president and chairman of CommScope, Inc. of North Carolina from 1986 to 1997 and chief executive officer of CommScope, Inc. of North Carolina since 1976.
Drendel served on the Board of Directors of General Instrument Corporation of Delaware, Inc. (a subsidiary of General Instrument Corporation), and its predecessors from 1987 to 1992 and was a director of General Instrument Corporation from 1992 until the company's spin-off in 1997 and from 1997 until its merger with Motorola in 2000.
In addition to serving as a director on Nextel's Board, Drendel is a member of the board of the National Cable Television Association (NCTA). An active member of several NCTA committees, Drendel has been a recipient of various NCTA awards including the Challenger Award, the Associates Award and the President's Award.
In 1999, Drendel was presented with The Order of the Long Leaf Pine, the highest civilian award given by the state of North Carolina.
Drendel graduated in 1970 from Northern Illinois University with a B.S. in Marketing.