Vice Chairman & Ex-Officer, General Electric, 2007 Cable Hall of Fame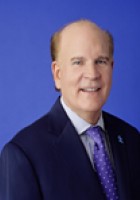 Bob Wright is vice chairman of the board, executive officer, and a member of the Corporate Executive Office of the General Electric Company. Wright joined NBC as president and chief executive officer on September 1, 1986, and was made chairman and CEO of the network in June 2001. He then served as chairman and chief executive officer of NBC Universal from May 2004 to February 6, 2007, and continued to serve as chairman of the NBC Universal board of directors until May 1, 2007.
Wright had one of the longest and most successful tenures of any media company chief executive, with more than two decades at the helm of one of the world's leading media and entertainment companies.
Under Wright, NBC was transformed from a broadcast network into a global media powerhouse with leadership in television programming, station ownership, and television production. During his successful tenure at the helm of NBC, Wright extended the broadcaster into cable and satellite, international, and new-media markets. At the same time, he significantly expanded the company's ownership of broadcast television stations, increasing its reach to over 30% of U.S. television households. In 2002, NBC completed three significant acquisitions: Telemundo, the nation's second-largest Spanish-language media company, with 16 owned-and-operated stations in the continental United States and Puerto Rico; television station KNTV, which provides NBC programming to the San Francisco/San Jose market; and Bravo, a leading entertainment network, reaching more than 80 million viewers across the nation.
NBC Universal owns CNBC, which during Wright's tenure became the global leader in business news, providing real-time financial-market information to more than 86 million households in the United States and 340 million homes worldwide. In addition, MSNBC, NBC's joint venture with Microsoft, reaches 83 million U.S. cable subscribers and up to 24 million unique users each month on the Internet.
Networks acquired as part of the Vivendi Universal Entertainment acquisition include the nation's most-watched basic cable network, USA Network, and SCI FI Channel. NBC Universal also has equity stakes in the A&E Network, the History Channel, and ValueVision's home shopping network, and a non-voting interest in ION Media Networks. Internationally, NBC Universal owns and operates a number of television channels offering entertainment programming across Europe and Latin America.
Prior to his association with NBC and NBC Universal, Wright served as president of General Electric Financial Services and, before that, as president of Cox Cable Communications. He has had a diversified career in general management, marketing, and broadcasting. Much of it has been with General Electric, NBC Universal's parent company.
Wright has been the recipient of numerous honors, most recently the Visionary Award from the Museum of Television & Radio. In 2005, Wright received the Humanitarian Award from the Simon Wiesenthal Center for fostering tolerance and understanding through community involvement, educational outreach, and social action. Wright's past honors include the Distinguished Leadership in Business Award from Columbia Business School, the Golden Mike Award from the Broadcasters' Foundation, the Steven J. Ross Humanitarian of the Year award from the UJA-Federation of New York, and the Gold Medal Award from the International Radio & Television Society Foundation. He has been honored by the Center for Communication for his industry leadership and has received the Ad Council's Public Service Award in recognition of his commitment to public service in both the public and private sectors. He has also been inducted into the Broadcasting & Cable Hall of Fame.
Wright is a founding member of the Global Leadership Group for BASCAP, the Business Alliance to Stop Counterfeiting and Piracy. He has been a leading figure in the global business community in raising awareness of the economic dangers of counterfeiting and piracy. He is on the board of trustees of the American Film Institute and the Museum of Television and Radio, and serves on the board of directors of the Motion Picture and Television Fund Corporation, the Damon Runyon Cancer Research Foundation, the New York Center for Autism, and the Polo Ralph Lauren Corporation. He is an honorary trustee of the Foundation of American Women in Radio and Television. In addition, Wright is on the board of governors of New York-Presbyterian Hospital and is a member of the Society of New York Hospital Inc.
Along with his wife, Suzanne, Wright serves as co-founder of Autism Speaks, a national foundation dedicated to raising public awareness and research funds to find the answers to autism. By the end of this year, Autism Speaks will have raised over $100 million and completed mergers with the Autism Coalition for Research and Education, the National Alliance for Autism Research, and Cure Autism Now, three of the nation's most successful autism advocacy organizations. Wright played a leadership role in urging Congress to pass the almost $1 billion Combating Autism Act (CAA), which was signed into law by President Bush in December 2006, and he and his wife continue to advocate for CAA appropriations and the April 2007-introduced Expanding the Promise of Individuals with Autism Act, which would authorize $350 million in new federal funding for programs related to treatments, interventions and services for children and adults with autism.
In recognition of their outstanding achievements in raising awareness about autism, Suzanne and Bob Wright received the first-ever Double Helix Award for Corporate Leadership from Cold Spring Harbor Laboratory and received the President's Medal for Excellence at Boston College's Wall Street Council Tribute Dinner.
Wright is a graduate of the College of the Holy Cross and the University of Virginia School of Law, where he received his LL.B. degree. He and Suzanne live in Connecticut. They have three children and four grandchildren.