Executive Vice President and COO, Cox Communications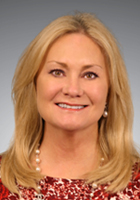 Jill Campbell is an optimistic champion of change and is always seeking ways to elevate talented leaders and her organization to exceed their own expectations and those of customers.
A Las Vegas native and daughter of a UNLV professor and psychologist, Campbell was accustomed to regular and very diverse dinner guests, something that shaped her broad view of the world and what it takes to build high performing teams.
After earning an undergraduate degree from UNLV, Campbell began her 35 year career at Cox as communications director for the company in Oklahoma, where she also earned an MBA from Oklahoma State University. She was soon encouraged by a mentor to enter an operational role and it was there that she started her path to become one of the highest ranked women in cable operations in the U.S. as executive vice president and chief operations officer.
Campbell's teams have consistently led the industry in innovation and execution, including Gigabit Internet service, the launch of personal video recommendations and a pioneering investment in business telecom services.
Jill's influence and commitments stretch far beyond Cox. She currently serves on the board of directors for Girl Talk, an organization focused on empowering young women to have self-confidence, support each other and believe that they can do anything. She has also worked with several other nonprofit organizations and cable industry groups. Through the years she has received many accolades including Multichannel News' Wonder Women and WICT's Women of the Year.
Jill shares her life outside work with husband George, daughter Lauryn and son-in-law Tim, son and college senior Colin, 12-year-old daughter Afton and three-year-old granddaughter Cora.