Former president-CEO, Daniels & Associates, 2005 Cable Hall of Fame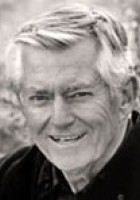 …but I start to look around, to do some brainstorming and see this thing called cable television… I said, 'Here's a reasonably new industry'… we decided that we had a business and it was worth continuing.
John V. Saeman, Jr., was born August 29, 1936, in Madison, WI, and raised in nearby farming community of Cross Plains. His dad and brother were involved with the Saeman Lumber Company which had been started by Saeman's grandfather in 1876 and remains a family business today. While his journeys have taken him far from home, Saeman has remained true to the rock-solid American values he learned in his youth.
After graduating from Loras College in Dubuque, IA, Saeman served in the United States Marine Corps. He then moved to Los Angeles, where he was introduced to the world of telecommunications when he took a sales position with Subscription Television (STV), a joint venture between the Reuben H. Donnelley Corporation and Lear Siegler. STV was the nation's first provider of Pay per View programming over co-axial cable. This 3 channel system featuring movies, sports and cultural programs operated in Southern and Northern California. In 1965, he moved to Denver and began his association with Bill Daniels. In 1972, he was named president of the brokerage division and in 1974, president and CEO of all Daniels companies.
In his early years with Daniels & Associates, Saeman worked in all facets of the company with system operating responsibilities in California, Nevada, Oregon and Washington State. Saeman also brokered cable systems to the Times Mirror Company, King Broadcasting, the Seattle Times, the San Francisco Chronicle, The Tribune Corp., and many others.
His key merger while in California was his marriage to his wife Carolyn, who for more than 40 years has been his best friend and partner. They have three children: John, Craig and Catherine, and are devoted to their 14 grandchildren. In 1988, John and Carol founded Medallion Enterprises, LLC, an investment and management company located in Denver.
Saeman is a member of the Cable TV Pioneers and served as chairman of the National Cable Television Association from 1982-83 and as chairman of CSPAN from 1981-82. He has received numerous awards, including the NCTA Distinguished Vanguard Award in 1985, the Golden Cable ACE Award in 1992 and is honored to be inducted in the Cable Television Hall of Fame. Pope John Paul II named him a "Knight of St. Gregory," a rare honor conferred for distinguished service to the religious and social mission of the Catholic Church around the world.
With their business association successfully concluded, Saeman's friendship with Bill Daniels deepened. The two shared much in common: patriotism, service in the military, a business ethic shaped by strong values and hard work, a concern for others reflected in personal philanthropy, and a stubborn unwillingness to compromise.
Bill Daniels spent the final years of his life carefully defining his goals in the articles of incorporation of the foundation that would bear his name. When he died in 2000, his $1 billion estate transferred to the Daniels Fund, which operates the Daniels Scholarship Program and the Daniels Fund Grants Program in Colorado, New Mexico, Utah and Wyoming.
Saeman serves as chairman of the board of the Daniels Fund, and is dedicated to honoring Daniels's intent and personal style of giving. In a few short years, the Fund has made an extraordinary difference in the lives of countless individuals.
Saeman and Daniels shared a deep friendship with Msgr. C.B. Woodrich (Father Woody), known as the "Patron Saint of Denver's Homeless." As a group, they led the effort to build Samaritan House, which provides shelter, food, medical and job services to homeless individuals and families.
Through the Seeds of Hope Charitable Trust, John and Carol support tuition assistance for low-income parents of all faiths seeking to give their children the benefit of a Catholic education, and through the Life Education Fund and other pro-life efforts, they provide alternatives to women in crisis pregnancies seeking to keep their babies. As the chairman of the development committee of the Papal Foundation, Saeman helps support charitable and educational efforts in some of the world's poorest nations.
Recognized as one of Colorado's business leaders, Saeman is dedicated to his faith, his family and to helping those in need.