President, CEO and Chairman, Liberty Media, 1999 Cable Hall of Fame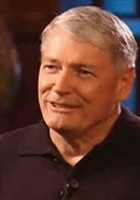 John Malone entered the cable industry in 1972, after working as president of industry equipment supplier Jerrold Electronics. Before that, he'd been an economic planner at AT&T's Bell Labs and a consultant at McKinsey & Co. Despite these credentials, he wasn't long out of school. He'd graduated Phi Beta Kappa from Yale, where he obtained a Bachelor of Science degree in Electrical Engineering and Economics in 1963. He received a Master of Science in Industrial Management from Johns Hopkins in 1964 and a PhD. in Operations Research from Johns Hopkins in 1967.
At Jerrold, Malone got to see the cable TV industry up close and decided it was where he wanted to be. When Tele-Communications Inc. founder Bob Magness approached him about joining his Denver-based company, Malone agreed and reorganized TCI's complicated finances and continued to expand the company.
By the early 1980s, Malone had begun to diversify TCI's portfolio of assets to include programming. Malone invested in programmer's companies, beginning a long tradition of similar partnerships that would one day be spun off from TCI as Liberty Media, one of the most influential holding companies active in cable programming, multimedia and technology.
As he was building TCI into the largest cable company on earth, with 15 million subscribers by the mid 1990s, Malone emerged early as a visionary who not only articulated his industry's potential to financial markets, but led cable to develop its powerful broadband platform.
Decades ago, Malone began contemplating the role cable operators might play in providing local telephone service.  He brought that idea to reality when he forged one of the largest transactions in U.S. corporate history, merging TCI into AT&T in a $48 billion combination. The deal created AT&T Broadband & Internet Services, a company that plans to offer consumers packages of services including video, high speed Internet access and local and long distance telephone. It also included Liberty Media Corp., which received a $5.5 billion infusion of capital and will operate under the chairmanship of Malone, who also serves on AT&T's board.
An intensely private person, Malone has kept his life outside the office far from the spotlight. He routinely breaks up his business day by going home to lunch with his wife, Leslie. The two hit the road each summer in what one friend calls "a souped up RV" and head for Maine, where Malone indulges his love of sailing. Also part of the family are two grown children, Tracy and Evan.
Malone's mantra is to "achieve and have fun." But having already achieved such honors as the NCTA's Vanguard Award, the Johns Hopkins Distinguished Alumnus Award, the Financial World CEO of the Year Award (1993), Wall Street's Transcript Gold Award for the cable industry's best CEO four times.