Former Chairman and CEO, Bresnan Communications, 2000 Cable Hall of Fame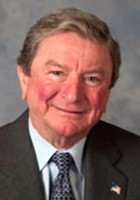 Bill Bresnan, a native of Mankato, Minnesota, was drawn to electronics at an early age when a local broadcast engineer taught him how to fix radios. After studying engineering following high school, Bill took a sales position with an electronics wholesaler. While selling supplies to a start-up cable TV service in Mankato he watched and learned as the company built the system, acquiring expert knowledge of cable technology. In 1958 he assumed the position of chief engineer for the Rochester, MN cable franchise, marking the beginning of his career in cable. By the close of the decade he had designed and built several cable systems in the region.
When entrepreneur Jack Kent Cooke purchased the Rochester system in 1965, Bill joined the Cooke executive team and a long and successful professional relationship between the two men was born. After a series of transactions, Cooke's holdings were merged with Teleprompter Corporation, then the largest cable company in the U.S. Bill served as President of Teleprompter's Cable Television Division from 1974 to 1981. In 1981, Westinghouse Electric purchased Teleprompter, and he became Chairman and Chief Executive Officer of the new company, Group W Cable, Inc.

By 1984, Bill Bresnan had spent half of his life in cable and had held every top position but one. That changed when he left Group W and founded his own company, Bresnan Communications, in partnership with TeleCommunications, Inc. (TCI). The new company acquired systems in Michigan, Minnesota, Wisconsin and ultimately Nebraska, all primarily in small and mid-sized markets. When that package of systems was sold to Charter Communications in 2000, Bill remained in the business exploring potential new ventures. In 2003 he acquired a group of systems in Colorado, Montana, Wyoming and Utah in partnership with Comcast Corporation, again in small and mid-sized markets.
Throughout his career, Bill Bresnan has played a leadership role in the cable television industry. He has testified before the FCC and U.S. congressional committees on a wide range of communications and copyright issues. Known as one of the cable industry's leading contributors to technological advancement, he played a major role in the development of the first domestic satellite transmission as well as the country's first commercial fiber optic communications system. In 1981, he was the recipient of the National Cable Telecommunications Association's prestigious Larry Boggs Award (now the Distinguished Vanguard Award for Leadership) for outstanding contributions to the industry, and in 1987 he was honored with the Cable Television Public Affairs Association's President's Award. In 1999, his numerous contributions to the industry were acknowledged when he received one of cable's highest honors, the Walter Kaitz Foundation's Partnership in Diversity Award. In the spring of 2000, he was inducted into the Cable Television Hall of Fame. In May of 2000, he received the Stanley B. Thomas Lifetime Achievement Award from the National Association of Minorities in Communications. In November of 2000, he also was inducted into Broadcasting and Cable magazine's Hall of Fame.

Bill served for over 35 years on the Board of Directors of the National Cable Telecommunications Association. He is currently the Chairman of The Cable Center in Denver, Chairman of the Executive Committee and a member of the Board of Directors of C-SPAN, and a Board member of Cable Television Laboratories, Cable TV Pioneers, and Cable Positive. A supporter of diversity in the workplace, he is also a member of the Board of Directors of The Emma Bowen Foundation, which promotes employment opportunities in media for economically disadvantaged minority students. Previously, he was the Chairman of CablePAC and has served on the Boards of Directors of Cable in the Classroom and the Cabletelevision Advertising Bureau. A firm believer in the advancement of women throughout the industry, Bill Bresnan is an honorary lifetime member of Women in Cable and Telecommunications.
For more photos see: archive.cablecenter.org