Director, former Chairman-CEO, Comcast Corporation, 2001 Cable Hall of Fame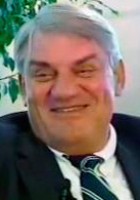 We are a major cable operator, but equally as important, we have the content.  We have the broadest and best set of copyrights in the world, and with AOL we have the capability to bring up and operate a nationwide digital platform that we think is unique.
As a Harvard Business School graduate student, Joe Collins chose cable television as his thesis topic and joined American Television and Communications Corporation (ATC) as a marketing specialist after graduating in 1972.  
Before being named ATC's chairman and CEO in June 1988, Collins had been president of Home Box Office, the wholly owned programming subsidiary of Time Warner. When he was appointed to the HBO post in October 1984, Collins had been president of ATC and was responsible for cable systems operations, construction, engineering, programming and marketing. He had been named ATC president in March 1982. Collins joined ATC in June 1972 as marketing director of ATC's Orlando cable system, gaining the distinction of being the first marketing specialist hired in an ATC system. A year later, he was named general manger of the company's central Florida operations and in September 1974 transferred to corporate headquarters in Denver as division manager. He was promoted to vice president, eastern operations, in 1976, became executive vice president in 1980, and assumed the title of senior executive vice president in 1981. Collins was named chairman of Time Warner Cable in September 1989.
Not one to seek the limelight, Collins' voice is often not heard by the general public, but he's nearly always consulted when the cable industry unites on regulatory, political and legislative strategies. A past chairman of the NCTA board of directors and a current board member, he helped craft the low-key approach NCTA adopted on the Telecom Act. Collins has also taken a leading role in promoting the High-Speed Education Access initiative that has won high praise from educators and local communities for its efforts to wire every school and library with cable's high-speed Internet service.
Collins is past chairman of the board of directors of the National Cable & Telecommunications Association (NCTA) and the current co-chairman of their Public Affairs Committee. Collins received a degree in International Relations from Brown University in 1966, and an MBA from the Harvard Graduate School of Business Administration in 1972.
Before entering Harvard, he had spent four years as a naval officer. A native of Troy, New York, he was born July 27, 1944. Collins, his wife Maura, and their four children  now live in Darien, Connecticut.