Global Health Ambassador and Former Chairman and CEO of MTV Networks International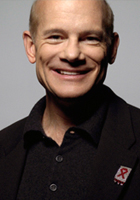 Bill Roedy is the former Chairman and CEO of MTV Networks International, where he and his team built from scratch a global operation of 200 channels, 20 brands (including MTV, Nickelodeon and Comedy Central) in 200 countries, reaching a potential audience of 2 billion people, launching the most channels in the history of TV.
Prior to joining MTVNI, Roedy was a Vice President for HBO for ten years, and was inducted as one of the "Pioneers" of the U.S. cable industry. Earlier he was a career officer in the United States Army where he qualified as Airborne and Army Ranger and was a decorated combat veteran in Vietnam. He also commanded nuclear missile bases in Italy as part of NATO during the Cold War.
In 1998 Mr Roedy was named Ambassador for UNAIDS and he has addressed the UN General Assembly on several occasions regarding the pandemic. He was a founding member and chair of the Global Business Coalition (GBC) on HIV/AIDS from 1998 to 2002, and currently serves as Chair of the Advisory Board. In 2005, UN Secretary General Kofi Annan appointed him founding chair of the Global Media AIDS Initiative Leadership Committee. Mary Robinson also appointed him as an Envoy for the Global Alliance for Vaccinations and Immunizations (GAVI) in 2010.
Mr Roedy currently serves as Chairman of the Staying Alive Foundation, which provides young people with resources to fight the epidemic at the grass roots level, in combination with MTV's award winning HIV/AIDS programming.
In addition to the above, he is active in a wide range of other Global Health initiatives, including the boards of amfAR, Healthright, Fitzmi, The Hawn Foundation (Goldie Hawn) and Global Health Corps. His business roles include Zumba (Healthy Lifestyle), Moshi Monsters, Lionsgate, Ping4 (Mobile Alerts), DJZ and the private equity advisory boards of TowerBrook (NY/London) and ClearVue (Shanghai).
His education roles include board membership with Westminster College, and the American School in London (ASL), and advisory board roles with Baruch College and the Berlin School of Creative Leadership.
He has received numerous awards – – including Individual Business Leadership Award presented by US President Bill Clinton, the International Emmy Founder's Award, amfAR's Award of Courage, ,Doctors of the World Leadership Award and the UN Correspondents Association Global Citizen of the Year Award presented by UN Secretary General Ban–Ki-Moon in 2009. He has given numerous commencement addresses with honorary doctorate degrees.
Roedy holds degrees of Bachelor of Science from West Point and an MBA from Harvard. He has recently joined the Council on Foreign Relations (CFR). Mr Roedy is one of the Exec Producers of the film documentary "Battle of amfAR", which premiered on HBO on World AIDS Day, December 1st 2013. He is also the author of 'What Makes Business Rock', one of CNBC's Best Books of Summer 2011. Bill is currently working on a second book on the art of intelligent perseverance.