Founder, former President and Chairman, Tele-Communications, Inc., 1998 Cable Hall of Fame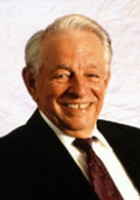 I picked up some characters one night down at the cotton gin…they had lost their ride…I visited with them…they had just built their first cable system. The next morning, I went down and talked to those folks…In 30-40 days, I was in the business.
The founder of Tele-Communications Inc. (TCI), Bob Magness, began his career as a cottonseed salesman and part-time cattle rancher after graduating from Southwestern State College in Wetherford, Oklahoma. During a visit to a cotton gin one evening in 1956, he met two men who were having car trouble and needed a ride to the nearest town. Magness offered to help and during the 30-mile drive, heard all about the new business the men were building, a community antenna system in nearby Paducah, Texas.
Intrigued, Magness drove back to Paducah a week later, found the two men and picked their brains some more. Encouraged by his wife Betsy, Magness sold the cattle, mortgaged their home and borrowed $2500 from his father to raise capital for the couple's first community antenna system, in Memphis, Texas. Magness strung wires while Betsy kept the books.
Two years later, the Magnesses sold that first system and began looking for an opportunity to reinvest. A cable operator and broker named Bill Daniels showed them a community antenna system in Bozeman, Montana, and in partnership with another television entrepreneur, the Magnesses bought the system and later built six more in the area, reaching more than 12,000 homes.
By 1965, Daniels had convinced the Magnesses they needed to run their companies, which now included Community Television Inc., the cable company, and Western Microwave Inc., a microwave common carrier, from a more centralized city. They relocated to Denver and in 1968, combined their two companies into Tele-Communications Inc.
In 1972 Magness hired John Malone of Jerrold Electronics to help him restructure TCI's finances. Magness and Malone had adjoining offices. Together, Magness and Malone would build TCI into one of the most influential media companies in the world. Along the way, they'd help to finance numerous affiliated companies, including Discovery Communications, Black Entertainment Television Inc. and Encore Media.
Even as he built his cable empire, Magness kept up his life as a rancher. He'd bought his first Arabian horse after World War II and later in his life he raised and bred horses on a ranch in Colorado and another in California. He also raised and bred a prize-winning herd of Limosin cattle, a breed known for its vigor and low fat.
At the same time, he was a sought-after board member, serving as a trustee of the University of Denver, the Denver Art Museum, the National Western Stock Show Association and the Denver Area Council of the Boy Scouts of America. He and his wife, Sharon, whom he married after Betsy died in 1985, were also highly active in local charities.